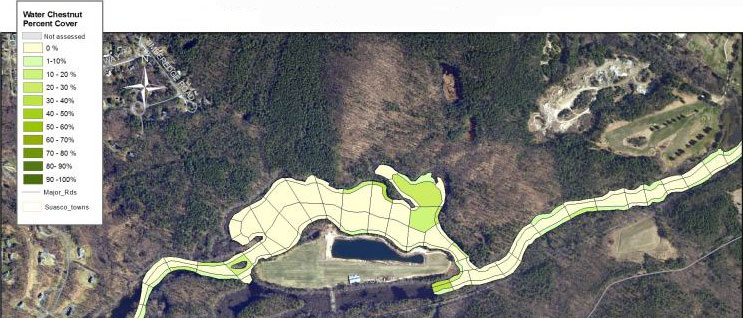 The following survey maps show the density of water chestnuts on the Assabet, Sudbury, and Concord rivers from surveys done in 2013, 2014 and 2016. These surveys are supported by the Nyanza Natural Resource Damages Funds.
CISMA is coordinating a comprehensive assessment of water chestnut infestation in the Sudbury, Assabet, and Concord rivers and 130 acres of ponds in the Hop Brook Watershed. Water Chestnut locations are marked by a global positioning system (GPS), including estimates of patch sizes and patch density. The CISMA Steering Committee selected OARS, a CISMA partner, to conduct the mapping and monitoring of the water chestnut. OARS staff worked with Mass Audubon to adapt and extend the GPS/GIS data input system initially developed in 2012. In 2017 CISMA adopted the "Water Chestnut Guidance and Management Plan for the Sudbury, Assabet and Concord Watershed" developed by OARS with support from the Nyanza Natural Resource Damages Funds, and has formed a Water Chestnut Subcommittee.
Note: The maps below are displayed using popup windows to allow more than one map to be seen at a time. You will need to enable/allow (switch on) popups in your browser to display the maps, if they are not already enabled.
Water Chestnut Surveys – June to August 2016
Water Chestnut Surveys – June to August 2014
Water Clover Surveys – June to August 2014
Water Chestnut Surveys – June & July 2013