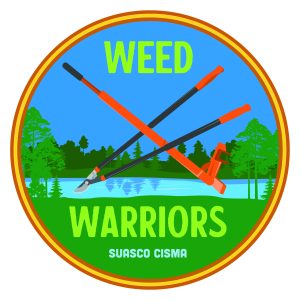 Weed Warriors are volunteers who work independently on designated properties to manually remove invasive plants. This is a great opportunity for volunteers with an interest in or an aptitude for plant identification and a willingness to work independently and on one's own schedule.
All Weed Warriors must
Attend a Weed Warrior training session on invasive plant identification (including common look-a-likes) and on when to use specific removal treatments.
Demonstrate an ability to identify the target invasive plants and an understanding of the desired removal techniques.
Receive certification from the host CISMA partner to remove invasive plants from their properties.
Once certified, Weed Warriors can go out on their own time to any of the designated locations to manage the invasive plants present. Certified Weed Warriors are allowed to supervise their family unit or a friend to assist in tackling the invasive plants. Current state and local public health protocols relating to COVID-19 must be followed, e.g., masking, social distancing, etc.
Weed Warriors are expected to visit designated properties at least 2 times per month during the growing season (April to mid-October) with each visit being a minimum of 30 minutes. For each visit the Weed Warrior must submit a brief report of their time and actions. Warriors can choose a single property to focus on or go to several throughout the season.
Anyone interested should have basic experience with plant identification and be comfortable working in the woods without staff present.
Target species in the Weed Warrior program include of Massachusetts' worst offenders: Japanese barberry, multiflora rose, water chestnut, bittersweet, glossy/common buckthorn, honeysuckle, winged euonymus, and garlic mustard.
How to Become a Host Organization
CISMA is working to expand this program across the watershed by recruiting and supporting host organizations. The goal is to have at least one host organization in each of the 36 communities within the watershed. Any type of organization can host Weed Warrior trainings and certify volunteers, from private or municipal conservation entities to schools and companies. To ensure a similar standard of volunteer skill across organizations, we have established some protocols that all host organizations will need to follow. For more information on the protocols, please review the Host Organization Guidelines below.
Volunteer Tracking Activity Form– A shared report for you to track volunteer time
Interested in becoming a host organization? Contact Kristin O'Brien (kobrien@svtweb.org) to learn more.