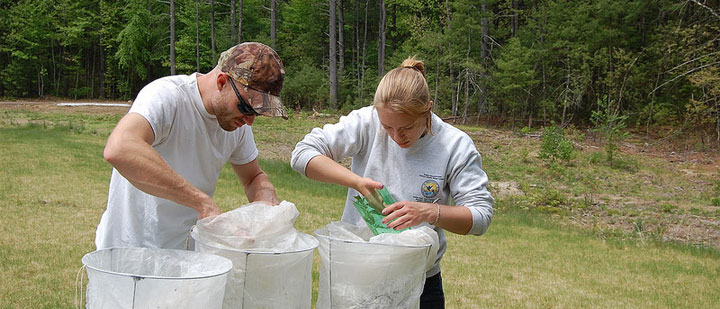 Each year SuAsCo CISMA produces an annual report of projects worked on the previous year. The Highlights Report is distributed at the CISMA Annual Meetings. SuAsCo CISMA has ongoing projects supported by a grant from the SuAsCo Wild and Scenic River Stewardship Council.
Early Detection and Rapid Removal Project run by New England Wild Flower Society (NEWFS)

Training was provided to volunteers beginning in 2010 to aid their identification of a selected list of early detection invasive species.
The volunteers selected lands in their towns to surveyed for these invasive species.
When found, volunteers were organized to remove those invasives, if possible.

Project to raise beetles to control Purple Loosestrife run by Sudbury Valley Trustees (SVT)

SVT coordinated 40 volunteers who raised the beetles that were released to five sites in the SuAsCo watershed.
Starting with 1,300 beetles, the volunteers raised 36,500 beetles.

SuAsCo CISMA web site project developed under the auspices of the CISMA Education and Outreach Subcommittee
A design was developed by the subcommittee with input from the CISMA organization and a site plan established.
A request for proposals was sent out to potential web developers, the proposals sent in were evaluated by the subcommittee, and Bartlett Interactive of West Concord was selected.
Bartlett Interactive built the initial web site based on specifications presented by the subcommittee.
The web site was beta tested and content and design changes were implemented by volunteers within the CISMA organization. Bartlett Interactive helped with these changes.
The SWEET invasive species management project
The Sudbury Weed Education and Eradication Team (SWEET) is a citizen group that works to control invasive species by removal in selected lands in Sudbury.
The funds were used to purchase equipment and supplies.