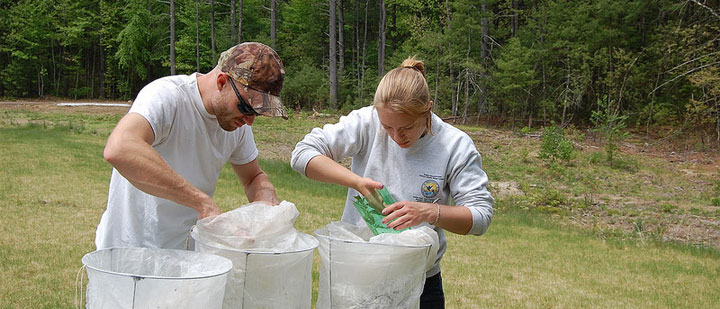 2023 SuAsCo CISMA Small Grant Request for Proposals
The Steering Committee of the SuAsCo CISMA has received $6,700 from the Sudbury-Assabet-Concord Wild & Scenic River Stewardship Council (RSC) to fund one or more invasive species control projects. We are seeking proposals from CISMA Partner organizations for projects that would directly benefit the Sudbury, Assabet, and/or Concord rivers by either eradicating/managing applicable priority species or by supporting educational outreach efforts. For more information see the complete Request For Proposals.
See a Sample Proposal that was award full funding.
Email proposals to Jane Maloney (jmaloney@svtweb.org) by 5:00 pm, February 28, 2023.
Past Small Grant Projects
2023 ($6,000)
Concord Land Conservation Trust – Buckthorn and bittersweet herbicide treatment
Town of Acton – Purchase native plants to replace invasive plant removal
Littleton Conservation Trust- Woody invasive plant mowing as initial site preparation for volunteers
Littleton Conservation Commission- Hire a contractor to develop an invasive plant management plan
Harvard Conservation Commission- Knotweed management as an initial town wide educational effort
2022 ($6,800)
Concord Land Conservation Trust – Invasive and native plant identification workshop
Friends of Saxonville – Identifying and removing invasive plant and planting native species along Carol Getchell Trail
Marlborough – Bittersweet removal at Ghiloni Park and education materials and signage
2021 ($6,050)
Concord – Cutting and treating high density porcelain berry and bittersweet
OARS – Mapping and pulling water chestnut along Sudbury, Assabet, and Concord Rivers
Wayland Conservation Department – remove invasives and restored shrub land habitat at Sedgemeadow Conservation Area
2020 ($4,921)
Natick – Creation of a management plan
Stow – Creation of a management plan
Hopkinton – brush hog bittersweet
Ashland – Hire high school students to remove invasive plants
2019 ($3,500)
SWEET – Monarch / pollinator habitat creation and black swallow-wart control
Wayland Conservation Department – Invasive removal and site restoration at Cow Common
2018 ($2,500)
SWEET – Monarch / pollinator habitat creation and black swallow-wart control
Bolton ConCom – annual invasive removal volunteer days at Fyfshire
SVT – Invasive removal and management at Gowings Swamp
2017 ($4,500)
SVT – Glossy buckthron removal at Gowings Swamp
Southborough Stewardship Committee – Bittersweet and buckthorn treatment
2016 ($4,500)
SVT – Glossy buckthorn removal at Elliot
Stow – Japanese knotweed treatment at Magazu Landing
2015 (No projects funded this year)
2014 ($4,500)
Concord Land Trust – phragmites control
SVT – Glossy buckthorn removal at Elliot
Westford Conservation Trust – Mile-a-minute control
SOLF – Invasive vegetation control at Beals Preserve
2013 ($4,900)

SWEET – garlic mustard pull and Japanese honeysuckle removal at LSHS
Westford Conservation Trust – Mile-a-minute control