(Trapa natans)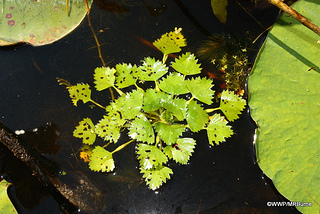 Water Chestnut is a rooted, aquatic plant with both floating and submersed leaves. The floating leaves form a rosette and are green, glossy and triangular with toothed edges. The submersed leaves are feathery, and are found whorled around the stem. Plant stems are cord-like and can attain lengths of up to 16 feet. Water chestnut is an annual plant, overwintering entirely by seed. In July the plant begins to produce seeds (called nuts) with 4 sharp spines. Mature seeds are green to greenish brown and sink to the bottom. Seeds may remain alive in the sediment for up to 12 years. Look-alikes Aquatic plant species are difficult to tell apart to the untrained eye. There is really nothing that looks like this!
Ecological Threat
Water chestnut can form dense floating mats, severely limiting light – a critical element of aquatic ecosystems. Once established, it can reduce oxygen levels, increasing the potential for fish kills. It competes with native vegetation and is of little value to waterfowl.
Distribution and Background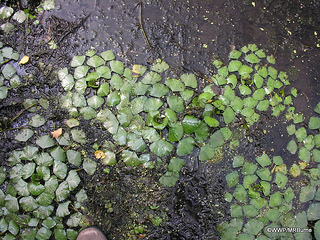 Water chestnut plants were first introduced to North America in about 1874 and were known to be cultured in 1877 in the botanical garden of Asa Gray, the eminent Harvard University botanist. By 1879, plants were found in the Charles River in Massachusetts. Wild populations have since become established in many locations in the northeastern United States. Although it prefers nutrient-rich lakes and rivers, water chestnut can grow in any freshwater setting, from intertidal estuaries to a depth of 12 feet in lakes and ponds. It is presently found in Massachusetts, Vermont, Connecticut, New York, Pennsylvania, Maryland and Virginia.
Alternative Plants (Alternative native Species)
Natives such as fragrant water lily (Nymphaea odorata), spatterdock (Nuphar variegata) and watershield (Brasenia schreberi) are attractive floating plants that occur in the same kinds of waters as water chestnut. Whenever possible, use as alternatives plant species that are native and adapted to the ecological region where you live. They will be more valuable to the wildlife species that have evolved with them and depend upon them for food and shelter. Check with your local native plant society for recommendations and sources of native plants.
Biology and Spread
Water chestnut spreads by the leaf rosette. The fruit can detach from the stem and float to another area on currents or by clinging to birds and other floating objects. Management Options Manual, mechanical and chemical techniques are used to control water chestnut. Complete removal of plants is important, as floating, uplifted plants and plant parts can spread the plant to new locations. It is critical that any removal take place prior to the July seed set. Eradication is difficult because water chestnut seeds may lay dormant for up to 12 years. For disposal options, refer to the control methods and disposal options page.
Plant Control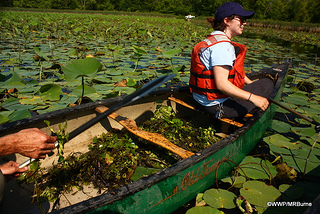 Early detection is the key to control since smaller populations are easier to eliminate than larger ones. Specialized methods of control are required to handle water chestnut infestations. Because of the likelihood of unintentional spread offsite and injury to those attempting control, only trained and certified persons should undertake management. Biological controls are being investigated to control water chestnut, but no species have been approved for release. For Manual and Mechanical control, individual plants can be hand-pulled. Large water chestnut populations can be removed with mechanical harvesters. Chemical Herbicides are effective in controlling water chestnut. Infested waters must be treated for 5-12 years to eliminate the invading population.
CAUTION: ANY ACTIVITIES IN AQUATIC SYSTEMS, INCLUDING REMOVAL OF INVASIVES BY HAND, REQUIRE A PERMIT UNDER YOUR LOCAL BYLAWS. APPLICATION OF HERBICIDES IN WETLANDS FOR INVASIVE CONTROL REQUIRES A PERMIT FROM YOUR LOCAL CONSERVATION COMMISSION AND A STATE PERMIT ISSUED BY THE MASSACHUSETTS DEPARTMENT OF ENVIRONMENTAL PROTECTION (DEP).
Identification
Learn how to identify water chestnut with this Weed Warrior Webinar.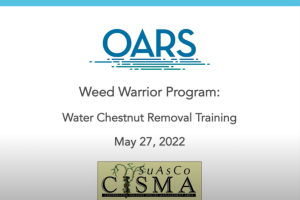 More Information
For more information on CISMA's plans, see the WaterChestnut Management Guidance & Five-Year Management Plan for the Sudbury, Assabet, and Concord River Watershed.
For more information on invasive species in Massachusetts, refer to the Massachusetts Prohibited Plant List at https://www.mass.gov/massachusetts-prohibited-plant-list.
References
U.S. Fish and Wildlife Service, water chestnut fact sheet: www.fws.gov/r5soc/library/invasive_species/Water_Chestnut.pdf
Department of Conservation and Natural Resources, DCNR Invasive Exotic Plant Tutorial for Natural Lands Managers http://www.docs.dcnr.pa.gov/cs/groups/public/documents/document/dcnr_010309.pdf
Related Partner Projects